Just looking at a bear, we start wondering how it can manage to stay warm in the harsh winter weather. Not only polar bears but also many others inhabit regions that may have their warm periods, but definitely get downright chilly as well. And yet they seem unaffected!
So the whole idea of bedlinens that show off bears is a great way. All covered up in bed, we hope to stay as warm and comfy as a bear in hibernation.
Whether they're grizzlies or brown bears, polar or spectacled, we just love these bears. And we're sure you'll love how they look and feel when you go to lie down and rest!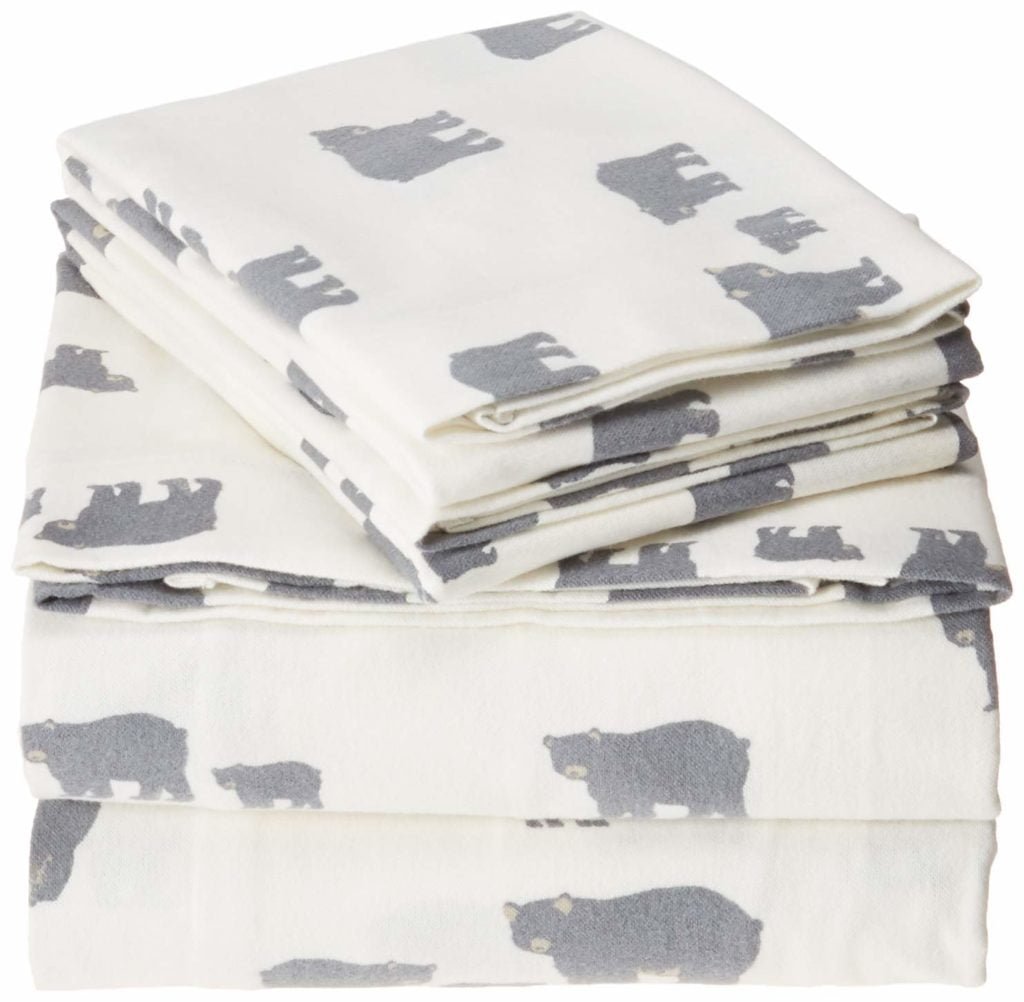 When it comes to stylish outdoors apparel – and for bringing a sense of the outdoors inside – Eddie Bauer has long been a leader. And this bed linen set doesn't disappoint!
Available in all standard sizes up to King, these 100% cotton flannel sheets are designed to keep you warm all through the night. They are made of cotton flannel, and the fitted sheet ha elastic all the way around so that it'll stay firmly in place.
The sheet is a light cream color, and the bears – which appear in groups of three – are a dark grey.
The twin set includes one pillow case, while the larger sets include two.
You'll definitely love the subdued look and the relaxing feel of these sheets!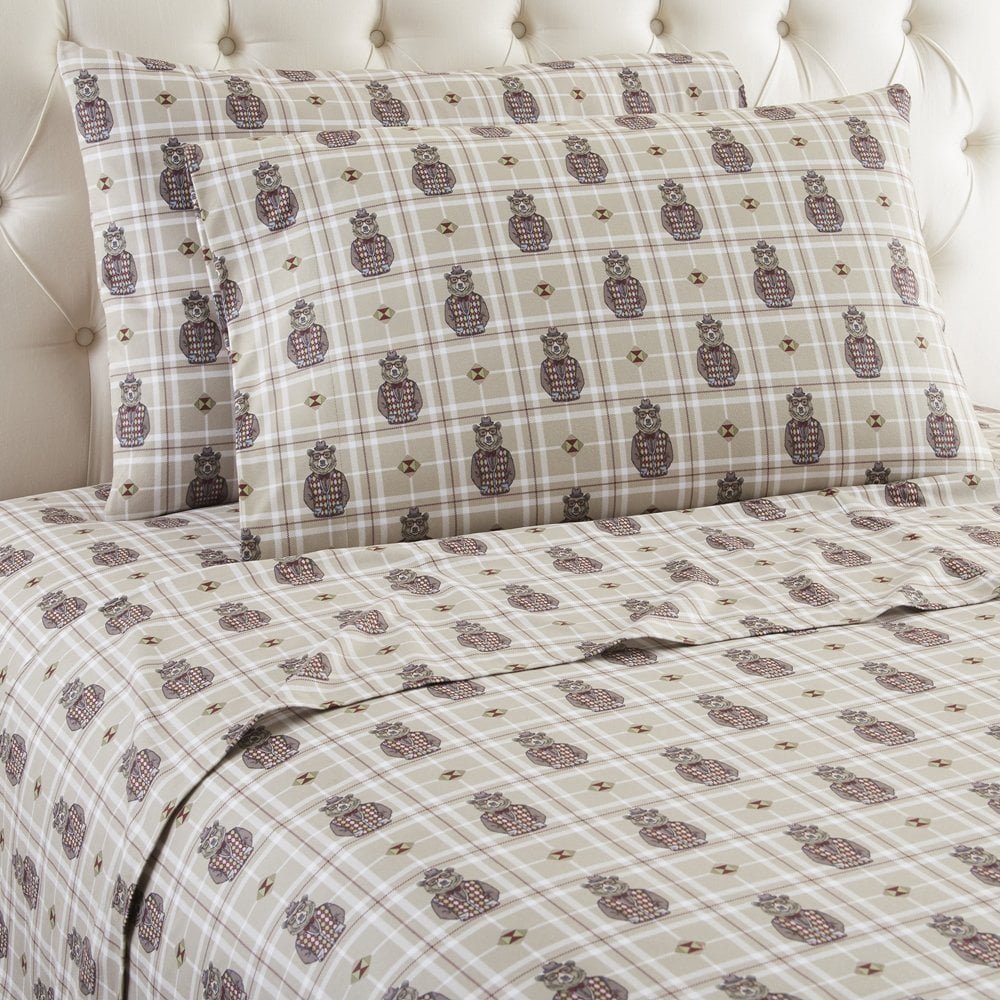 There are bears, and then there are hipster bears. If you like the hipster look and are looking for something out of the ordinary, you've got to check out these sheets from Thermee!
While these are 100% polyester, they come pretty close to the feel and warmth of real flannel sheets. One benefit is that this micro flannel material doesn't shrink, so it will hold its size for hte life of the sheet.
They have deep pockets so will fit on thicker mattresses, at least up to 16″ and possibly larger.
At the time of this writing, only Full, King and California King sizes were available although buttons were present but disabled for other sizes, which means they could just be temporarily out of stock. From full size up, the set includes 2 pillow cases along with the flat sheet and fitted sheet.
These are great for winter. They may be too heavy for summer use depending on how cool you keep your house and your personal preferences.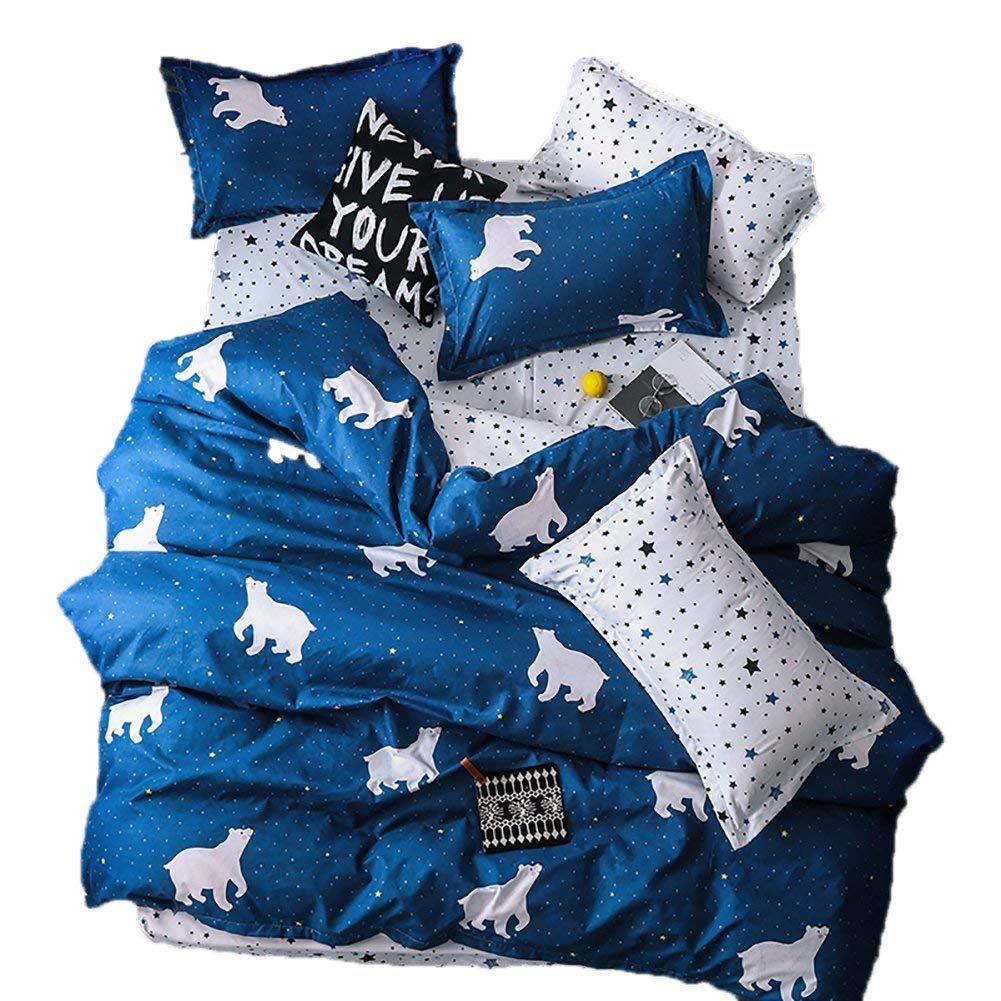 Looking for a great duvet set? This fantastic set features a rich blue base with a white bear and a field of stars on the duvet cover. The single flat sheet is the reverse – the base color is white while the stars are blue. Each set – even the twin – includes two pillow covers, which are randomly either the blue base on or the white base. Unfortunately there doesn't seem to be a way to order specific covers.
This is a really nice set that's soft and comfortable. The duvet cover has a hidden zipper and four corner ties, so that the filling will be held securely in place (remember, this item is just the cover; you have to supply your own filling).
The set is available in twin, full, and queen sizes.
The set is made of polyester, so it might feel a tiny bit warm for some people.
This is great for its rich colors, for bear lovers and even for astronomy lovers. The star print along with the bear can call to mind the two bear constellations, Ursa Major and Ursa Minor.
Many bear items have a winter theme, which of course calls to mind Christmas, at least in the Northern Hemisphere. And with a Christmas tree and these cartoon bears, this sheet set definitely has that feel. But they're great year round as well!
The sky blue sheets feature a variety of cartoon bears along with decorated trees as well as snowflakes fluttering softly down, creating a fun and relaxing feel especially for a younger member of the household.
These sheets are 100% combed cotton and hypoallergenic. They are a double-layer muslin. The care instructions, at least on Amazon, says to wash in water under 30 degrees. We're going to assume that means Celsius – which would be 85 degrees Fahrenheit, most likely the cold setting on your washer.
These are available in twin (with one pillowcase) or full (with two pillowcases).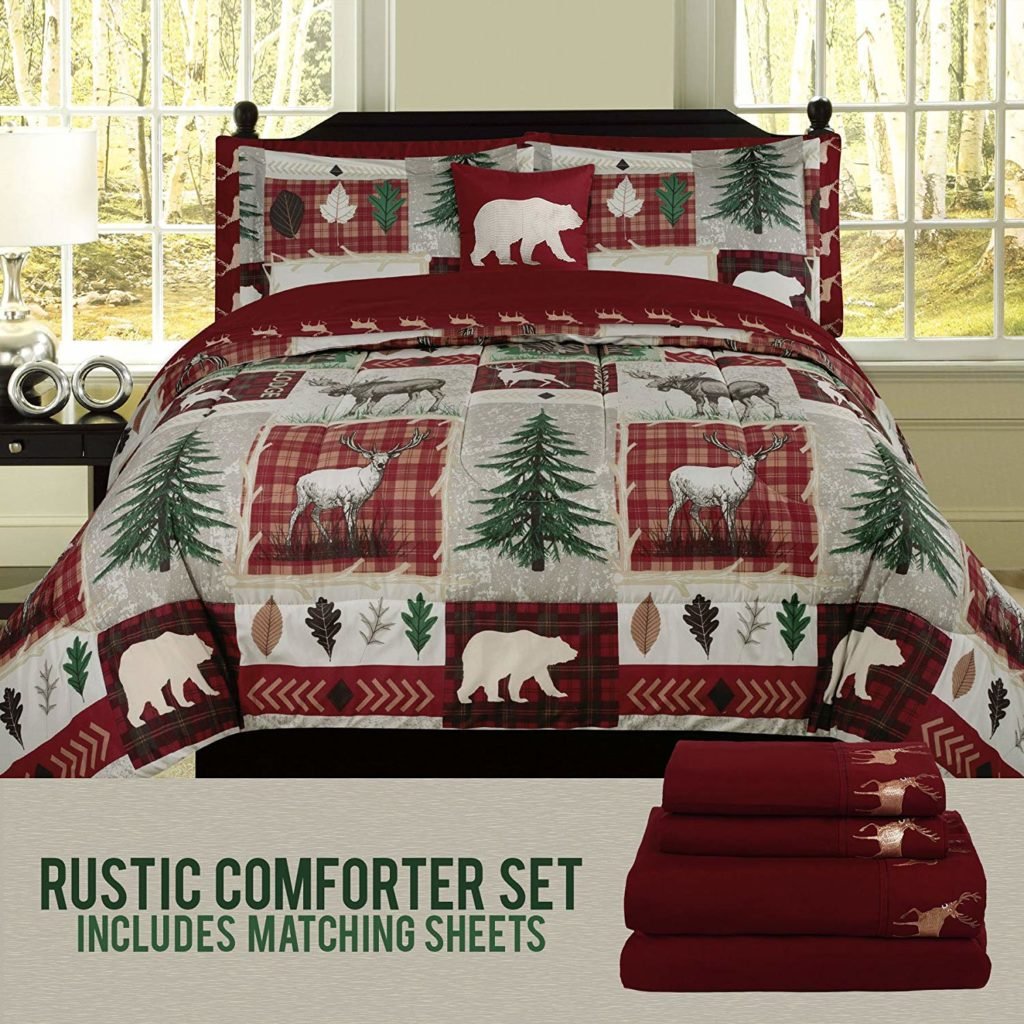 With rich colors and great images, this complete bedding set will warm the heart of anyone who loves the forest!
A great gift for hunters, nature lovers or for your cabin in the woods, this set includes all you need to set up a beautiful bed. There are a flat sheet, fitted sheet and two pillow cases (just one for the twin size). Also included are a comforter, 2 shams, and an embroidered decorative pillow.
The colors are more red than it appears in the photo, but still rich and vibrant. Both bear and deer are featured along with pine trees.
These are made of a microfiber polyester. They're rather light despite appearance, so might serve better for summer or winter, or with a heavy blanket added to keep you warm when it gets chilly.
As we write this, only twin and queen sizes were available, but other buttons were greyed out, meaning they might be available upon restocking. Also, the sheets and the comforter set are available separately as well. You can find them listed at the same link.
Wrapping It Up
When it comes to staying warm and comfortable in bed, there's no need to just grin and bear it (ok ok, that was bad, even for us!). If you love bears, you'll love the great bed linens that we've featured here. Whether realistic outlines, hipster versions or cartoonish Christmas looks, the quality and appearance of these bed linens is worth trying out!