Bears can be fearsome creatures – but beautiful for their strength and power as well. The black bear is most widespread across North America. The famous Grizzly Bear is actually a type of Brown Bear. The browns are actually more common in the US West and Alaska, as well as Canada.
Their immense size and power justifiably can cause fear, but there is also something in them that attracts us. One is even featured on California's state flag.
When you're looking for a great image for your wall, a bear goes great. It calls to mind the Great Outdoors and the power of nature and the forest.
Check out some of this great wall art we've found that features black, brown and grizzly bears!
Looking for Polar Bear merchandise? See our separate category!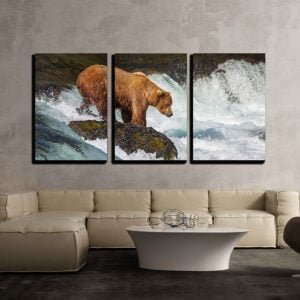 The remarkable scene of a bear fishing for salmon is one we may remember from nature movies. The large brown bear pictured here patiently waits for its dinner to jump up the river. It's a great image for the over the living-room sofa or behind your desk, or wherever you'd like it.
This three-panel wall art is available in two sizes: 24″ x 16″ or 36″ x 24″. The canvas is already stretched onto a pre-shrunk frame, so you'll just have to line it up and hang it. A hanging accessory kit is even included.
A white semi-gloss canvas designed for canvas printing is used and HP Latex inks should curb fading for decades to come. Wooden stretcher frames are used.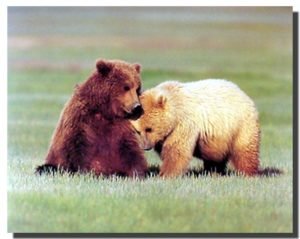 For all their ferocious reputation, bears are also loved because of, well, cute scenes like this. These two grizzly cubs nuzzling together is enough to bring out warm feelings in even the most grizzled heart. The vivid colors just add to the beauty of the scene.
This print is measures 16″ x 20″, perfect to fit a ready-made frame. It's great for a small space – perhaps a hallway wall, or somewhere you plan to hang several prints together. The kids will surely love it as well!
This grizzly bear has already caught and is starting to enjoy his salmon dinner. Standing in the river, he's taken his place in the circle of life.
This sturdy metal piece is steel covered with a copper powder coat finish. It measures 18 inches by 12 inches. It's great for outdoor use as well as indoor.
There is no hanging hardware on this piece, but it's easy enough to use the cuts in the metal to hang it. It has a reputation for being durable although it's not an extremely high-gauge steel.
This piece will go great anywhere in your house, but also as a sign on or next to your front door, on the fence or even on a tree.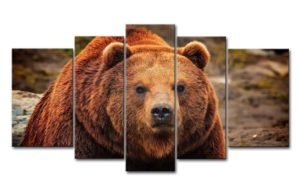 This big bear looks like he's coming right off the wall into your living room! Surely he's nothing to be trifled with. But he's definitely the majestic type of beast that would be great for the living room or over your bed.
The print is in five sections.  The tall center panel measures 8″ x 24″. Two panels measures 8″ x 20″ and the outermost two measure 10″x 16″. That makes for a total of 44″ wide plus the space between panels, so you'll need about 4 feet to mount this.
The canvas is stretched on wooden frames. Each frame has a hanging hook to make installation easier.
The colors are bright and the image of the bear very focused while the background is a bit blurry, which is a common photographic effect.
Amazingly cute! This wonderful little cub looks like he's biting his claws while also staring into the camera as if posing. This 16″ x 20″ print is great for the kids' room or anywhere you just want to be reminded of how sweet Mother Nature really is.
The print is a standard size, so you can easily find a ready-made frame for it. The colors are especially vivid.
Wrapping It Up
Bringing the beauty and power of a bear to your home with fantastic wall art! There's so many great choices available and we've only been able to scratch the surface. Appreciate the strength and power of the bear, one of the largest land mammals in North America. Fill up that empty space on the wall with a truly magnificent reminder of the forest!