The bright colors of birds make them attractive subjects for art. Whether it's a detailed study like that of John James Audubon, or a simple crayon sketch by a child, we love to see birds in art – when we can't see them in person.
Birds remind us of freedom – and tropical birds can remind us of a wild party as well. That makes them fitting subject to appear on all kinds of drinkware.
Here's a variety of cups, mugs and glasses that'll bring a reminder of our feathered friends along with your favorite beverage.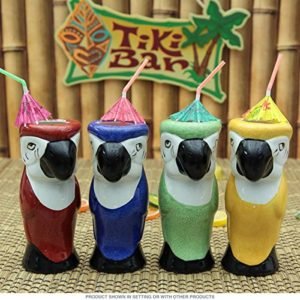 Got a craving for a piña colada or other tropical adult beverage? These 16 oz. glasses in the shape of a parrot would be great for a poolside bar or if you like to throw theme parties. Or, just for fun!
They're brightly-colored and the parrots each seem to have a bit of personality, too.
The ceramic glasses are 8″ tall, perfect for any umbrella drink. You'll need extra-long straws, though.
The manufacturer's description claims they are dishwasher safe, but we'd beg to differ. A number of people have claimed these break in the dishwasher. But they are nice for occasional use as a novelty item.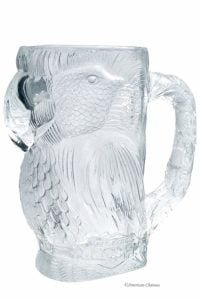 Nothing like a cold one to kick back with and try to survive the jungle heat. Or anything else, for that matter!
Enjoy your beer in this parrot-shaped glass that will help you both look and feel cool. It measures 7 3/4″ tall and about 6.3″ across. That allows a great amount of space to fill it up and sip! It's got a great solid base too to help prevent spills and give you a solid feel in your hand.
This beer mug is dishwasher safe.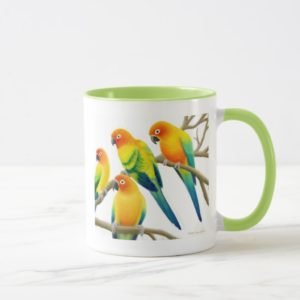 The Sun Conure, also known as the Sun Parakeet, is native to northern South America. Its brilliant colors brighten up the day – and this beautiful mug.
This ceramic mug is microwave and dishwasher safe. It holds 11 ounces of your hot or cold drink. But a 15 oz. version is also available as well as a travel mug with lid.
There are a variety of colors available for the trim and inside of the cup. Also, you can choose to have a colored inside line but keep the handle the base white color of the mug.
It's a great way to put some color and joy into your morning while waiting for your caffeine jolt to kick in!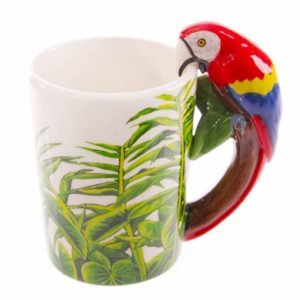 This mug doesn't feature just a painting of a parrot; it's actually a 3D version! The parrot appears to be biting the edge of the mug, and its body and tail feathers form the handle itself. It looks like he's eager for a sip of coffee too!
The bright colors of the parrot and the jungle plants around the body of the mug make it really stand out. And it'll keep 14 ounces of your favorite beverage warm, too.
The mug is dishwasher and microwave safe.
Along with the scarlet macaw pictured here, there's also a toucan, a frog and a panda version available.
These long-stemmed goblet-style glasses are hand-painted with the colorful Scarlet Macaw, probably the bird most people think of when the word "parrot" comes up. The art even takes the bird's tail feathers right down the stem!
The paint is baked on so it won't fade or chip easily, and these glasses are top-rack dishwasher safe.
Each holds 20 oz., and these are great for wine or any other beverage you'd like to use them for. They'll definitely make you feel like you're in the tropics. And you'll want to break out Jimmy Buffett's Margaritaville while you're at it! Since they come in a set of four, it's just begging for a fun party!
Wrapping It Up
Birds can bring so much joy and they create a unique atmosphere for fun and freedom. Having bird-themed drinkware, especially when focused on the colorful birds of the tropics, is a definite party-starter. Add some great drinking utensils to your glasses and put some color into your life!