We love our dogs, but even THEY can get under our skin before our first cup of joe in the morning.
While getting ready to walk man's best friend, we might brew a pot and walk right out of the house with a steaming mug. But what better way to show how much we appreciate our faithful companion than having a picture of a canine on the mug itself!
There's a lot of variety available here – the mug can be shaped like a dog, or it can just bear the image of our favorite breed. You can even get mugs made with photo of your dog embedded in it.
Here, we've found some of the nicest ideas for dog mugs. Check them out and give them a try! It's a great way to keep two of the most necessary parts of daily life united.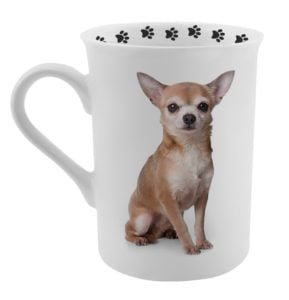 This porcelain mug is available with the image of many different breeds both large and small. The paw prints inside the rim are a great touch – so cute! Pictured here, obviously is the chihuahua version, but you can find over 20 different versions at the link!
There's even a few available with cats! It's dishwasher and microwave safe.
It holds 8 ounces – maybe not quite enough to get you fully awake, but at least a good start. The mug itself weighs 7.2 ounces, making it a pretty sturdy piece of drinkware.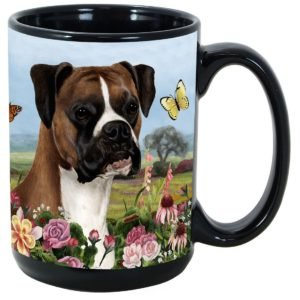 If you've gotta have that huge dose of coffee to kick off your day – or to keep on your desk throughout – you'll love this 15 ounce mug from Garden Party. Close to 40 different breeds are available; we're featuring the Boxer here. Every dog is featured on a background of a tranquil garden setting. The breed's name is featured on the opposite side of the mug from its picture.
The mug measures 4.5″ high by 3.25″ wide. It's glazed ceramic and is top-rack dishwasher and microwave safe.
It comes in a white presentation box with red tissue paper, so if you're planning on giving it as a gift, it's pretty much ready to go.
It also includes imitation currency – a non-negotiable "$9 bill" in K-Nine Kash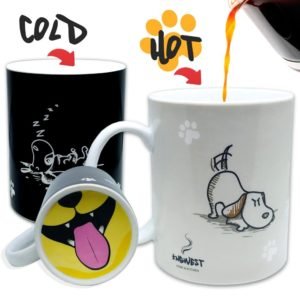 This mug definitely is a winner in the "cute dog drawing" category. It's heat sensitive, so as your coffee cools off, the color changes from white to black and the dog goes from eagerly wagging its tail to rolling over sound asleep.
When you get to the bottom of the cup, you'll find a brighty-colored tongue lapping up the coffee from the bottom.
This ceramic mug holds 11 oz. of your favorite beverage. It makes a fantastic and fun gift for someone special – or of course a great way to enjoy a cuppa with some enjoyment tossed in!
This mug is not microwaveable or dishwasher safe. But the fun it brings make it worth hand-washing!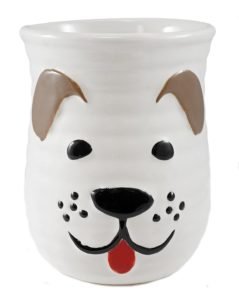 You can't go wrong with a happy canine and a huge cup of coffee! The smiling dog face painted on this large mug will cheer you up even on the worst mornings.
This mug definitely will make you remember why you love pups so much. With its tongue stuck out you can tell he's happy to see you!
And you'll be much happier once you get that 18 ounces of coffee inside you. Great for the winters too, you'll feel the warmth right through the ceramic.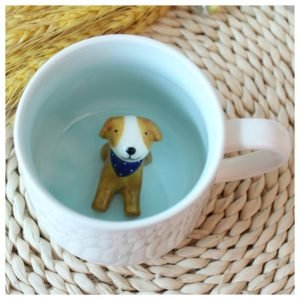 Finish your hot chocolate, coffee or other drink and find an amazingly cute miniature dog figurine at the bottom! These mugs have an actual ceramic firmly attached  to the bottom, just waiting to put a smile on your face.
Made of china, this mug holds about 10 oz. The colorful figurine takes just a tiny amount of space.
Besides the dog version, many other animals are available – including a hedgehog, a panda and a duck. But there's many more also – be sure to check the listing!
Wrapping It Up
Keep your furry friends in mind as you have your wake-up drink with a wonderful coffee mug with an image of a dog painted on the outside – or even honored on the inside! You'll love these great mugs. They make great gifts and also stand out in the break room at work.