Your visitors will never forget these beautiful elephant figurines!
The world's largest land mammal is a favorite of many. Elephants are known for their intelligence, and appear to show high levels of emotional connection to each other as well as to humans who care for them. No wonder they're celebrated in many places!
Having a figurine of one of these enormous and strong yet gentle beasts in your home or office can be a symbol of good luck or a reminder of our need to care more for our planet. Or simply a reminder of the beauty and nobility of the tusked giant. They're also considered to be good luck!

This wonderfully-colored piece is based on the Meenakari style of coloring from Persia (modern-day Iran). It's truly a vibrant piece and brings to mind all the culture and artwork of that part of the world.
The elephant stands just 4 1/2″ high, making it great for a desk or a small mantle, or mingled in your elephant collection. It definitely won't get lost in the crowd, even among larger pieces.
For yourself or as a gift, this is surely a piece that will draw attention from all who see it!
This beautiful statue of an elephant with its trunk raised has a wood look to add a classy and classic feel to your home. It's sure to inspire compliments and looks of awe from your friends!
At 5 1/8″ inches tall, this figurine will go great on your mantel or even your desk. Made of a polyresin, it truly appears to be carved of wood. It also features felt pads on each foot to help protect your furniture.
The overall dimensions are 5 1/8″ inches high, 2 5/8″ wide and 6 1/8″ long. It's beautifully detailed, too!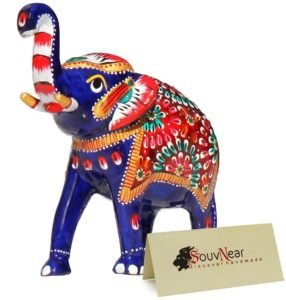 This beautiful Thai elephant is a show-stopper! The metallic trim on top of the dark body really catches and reflects the light. It really looks like it's modeled on something that would have served the Siamese royalty.
This lightweight piece appears to be made of wood. It measures 6 1/2″ high. It is very light, so it's not really to be used as a bookend or doorstop. But it's great as a display piece and matches up well with much more expensive works.
Did you know that the gestation period for an elephant is 24 months? Yup, a mother elephant carries her baby for two entire years!
This beautiful soapstone figurine honors that cycle as it's carved to show a baby elephant inside the mother. Obviously it's not a scientific model, but it is a wonderful expression of motherly love in the animal kingdom.
The mother elephant is in the traditional Indian jali style, with the openings. The baby is a solid figure. These are handmade, so are totally unique. They are covered from a single piece of stone.
This wonderful pieces measures 5″ long by 3″ wide by 4.2″ high.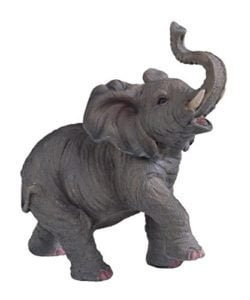 You'll roar with approval too when you have this beautiful polyresin elephant statuette in your collection. This African elephant has his trunk and right foreleg high in the air.
Finally detailed, this piece is stable even with just three feet on the ground. It measures 6.5″ inches high from the base to the tip of his trunk. It's recommended for indoor use only, as the elements can take a toll on it. (All of the items here are best for indoor use; we just bring it up here because the question was raised by several people).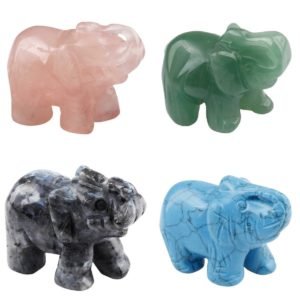 Carry your good-luck elephant right in your pocket! These small statuettes measure just 1.5″ and can easily be carried around with you, or kept on a shelf or desk with other knick-knacks. They're colorful reminders of your favorite animal!
They come in packs of 4, although the selection is random. Each is unique based on the original size and color of stone available.  The material also varies; some are synthetic and some are natural. At last notice the vendor listed these as the materials of the synthetic ones: labradorite howlite turquoise and opalite snowflake obsidian. The rest are supposed to be natural. All in all, though, still a great miniature!
Wrapping It Up
Elephants show wisdom and live a long life. They are great reminders of these qualities and many even say they bring lucky. For sure, you or whoever you gift these to will feel lucky with these wonderful miniatures!