Froggie went a courtin' . . . and found his perfect match! They go together like salt and pepper.
Mr. and Mrs. Frog salt and pepper shakers are cute addition to any kitchen. There's no need to stick with plain, purely functional ones; have a little flair and add some fun and color to the table.
You might not be a big fan of handling real amphibians, but any squeamishness will disappear with these great items that you can use daily, or just pull them out for "special" occasions.
Salt and pepper shakers should normally be hand washed by wiping with a damp cloth. That's more to keep the inside dry than to protect the shakers themselves!
These hand-painted frogs with green backs and bright yellow bellies really stand out, despite being only four inches tall. They're really buggy eyes show utter surprise and really stand out.
The two cute shakers are identical except for the holes in the top. As is normal, the salt shaker has two holes and the pepper shaker three.
The colors are lighter and brighter than what's common but that's just makes them even more interesting.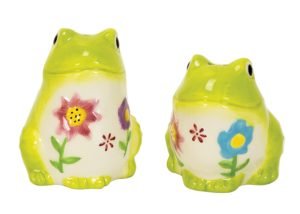 Love having frogs in your garden? This pair of frogs brings the garden inside with them!
These ceramic salt and pepper shakers are painted a light green with an off-white belly, but they also each have flowers on their belly (which appear to be in front of them). They're fantastic and unique and bring a real sense of a peaceful pond to the home.
These may work better as decorative pieces instead of functional ones, as the holes to fill them are quite tiny. You could curl a piece of paper and pour your salt and pepper in through the "funnel" but there's also complaints that the stoppers don't seal properly so everything leaks out. But they're definitely a great decorative piece!
This princess found her frog-prince and was perfectly happy with him how he is. They go together like salt and pepper and will go great on your table as well!
These ceramic frogs measure 3″ x 3″ each. Add a royal touch to the kitchen with this memorable set!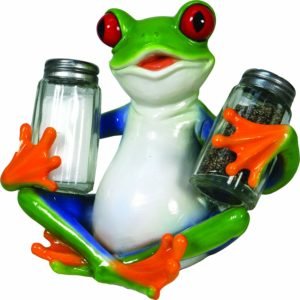 We talked about perfect frog couples at the beginning but the perfect combo of seasonings doesn't necessarily have to be handled by two frogs.
This guy looks like he'd be perfectly comfortable sitting on his lily pad cradling salt and paper shakers in his arms.
The figure is made of hand-painted poly resin and measures 7.5″ H x 5.5″D x 7.5″W. The shakers are real glass and are 1 inch across and about 1 3/4″ high.
A number  of other designs are available as well, including bear, deer, cowboy boots – and outhouses. Yes, they are "Full of S" and "Full of P"!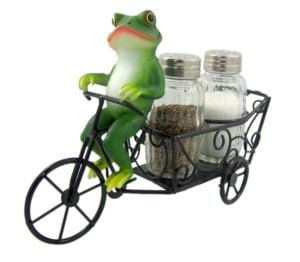 Ok, yet again we leave behind our "perfect couple" theme, but this is just too cute to overlook!
This frog drives his delivery tricycle right to you, all loaded up with salt and pepper in her cart.
Made of a polyresin, it's stable enough to support the glass shakers (included). It definitely adds a bit of whimsy to your dining table!
Wrapping It Up
Far more people enjoy frog art than enjoy actually going out to the swamp to enjoy frogs. But you can have all their cuteness in your kitchen with some great hoppers that will entertain you – and any of your own "tadpoles" peaking over the tabletop!