Most often, it seems that we think of little cuddly things as cute and big animals as intimidating. But giraffes definitely go against that form of thinking (ok, rats do too – but let's not talk about THEM!). Giraffes are one of the animals we're attracted to the most. Is that because of their strange, awkward appearance, or despite it?
With extremely long necks, long tongues and tall spindly legs, there's no other animal remotely like it. This native of the African plains is enchanting – and hard to believe it really exists. After all, who would have thought to design something like that!
Loved by the young and young-at-heart, so many people love to have a stuffed toy giraffe for the nursery, bed or playroom. Or anywhere your heart desires! Here are some of our favorite giraffe plushies of varying heights that will all make you feel 10 feet tall!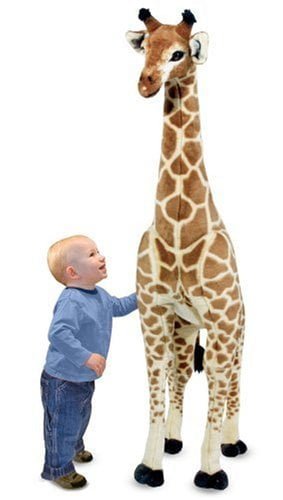 Your eyes aren't deceiving you – this is a really tall stuffed giraffe! It's far from lifesize, of course, but this toy from Melissa & Doug makes a great decoration for baby's room or anywhere in the house. You might even consider it for an office or other room where you want to show off your love for nature!
This stuffed animal measures 53″ tall – that's nearly 4 and a half feet! That means it'll come to nearly to the chest of most average-height adults. It's 21 1/2″ wide and 10″ deep and weighs about 7 pounds. Those measurements are from the product description although many reviews give a variety of measurements, up to as much as 58 inches, so it could be that there's a variation either in manufacture or in the way the stuffing settles.
This is not a mountable toy – the back is actually quite steep, but the legs wouldn't support a child anyway. Still you could hold a child slightly resting on it for photo ops!
The material can be washed by hand. These are hand-crafted and sturdy, as we've also seen with other products from Melissa and Doug.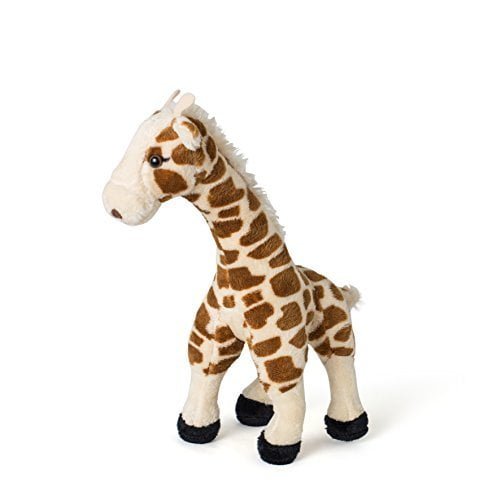 Getting back to smaller giants of the savannah, this 11″ plush giraffe is more manageable in the crib or bed or on a road trip. And of course it's incredibly cute!
This one is incredibly soft but one of its greatest features is its poseable neck that will hold position. That makes it great for posing and less frustration for a young one who wants their giraffe to do just what they ask!
The toy is about 7 and a half inches long and 3 inches wide, and weighs just over 3 ounces. It's durable and holds up well over time.
---
Fun fact: the "horns" on a giraffe are called "ossicones". They are formed of cartilage. To make the delivery of the baby giraffe easier, evolution has seen to it that they aren't attached to the skull, so they don't cause problems in delivery!
---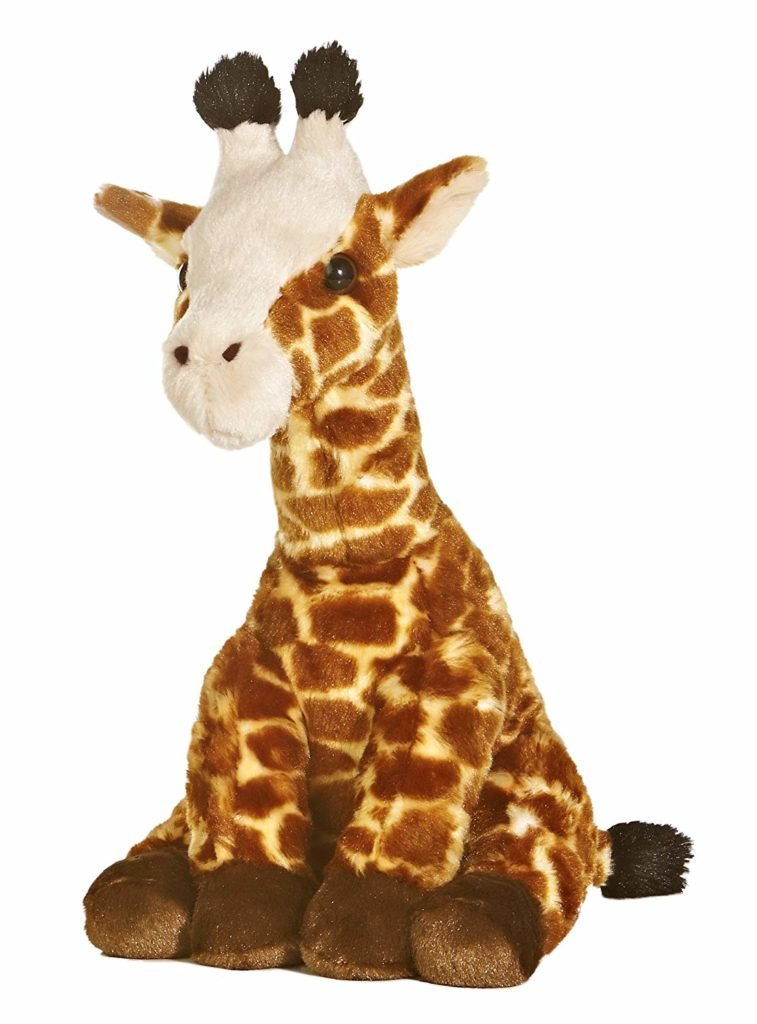 Aurora is one of our favorite makers of stuffed toys, and they don't disappoint here.
This stuffed giraffe toy will immediately become a favorite of almost any child. It's really soft and colorful. It measures about 12″, the perfect size for hugs!
This isn't a posesable figure – it doesn't hold its position. It will sit up just fine, but you can't have it in a standing position without something to support it. The neck is well-stuffed, though, so it does hold its form – it can be bent, but won't hold that position.
It's incredibly soft, really, and can be machine washed and air dried.
We had to re-read the name of this toy – no, it's not a giraffe stuffed with kangaroo or some exotic Australian/African dish. The company Kangaroo offers this great, 2 foot high stuffed giraffe plush toy that your child will love (child in picture not included!)
This giraffe's neck is poseable and it stands upright. The legs have wire to keep them straight but they can't bend. It stands up straight without any issues.
Some owners report that over time, the stitching gives out but that it can rather easily be sewn back together. A few also seem to have issues with the neck "breaking" – that is, the metal support broke and the neck isn't poseable any longer. However, the vast majority say it holds up well.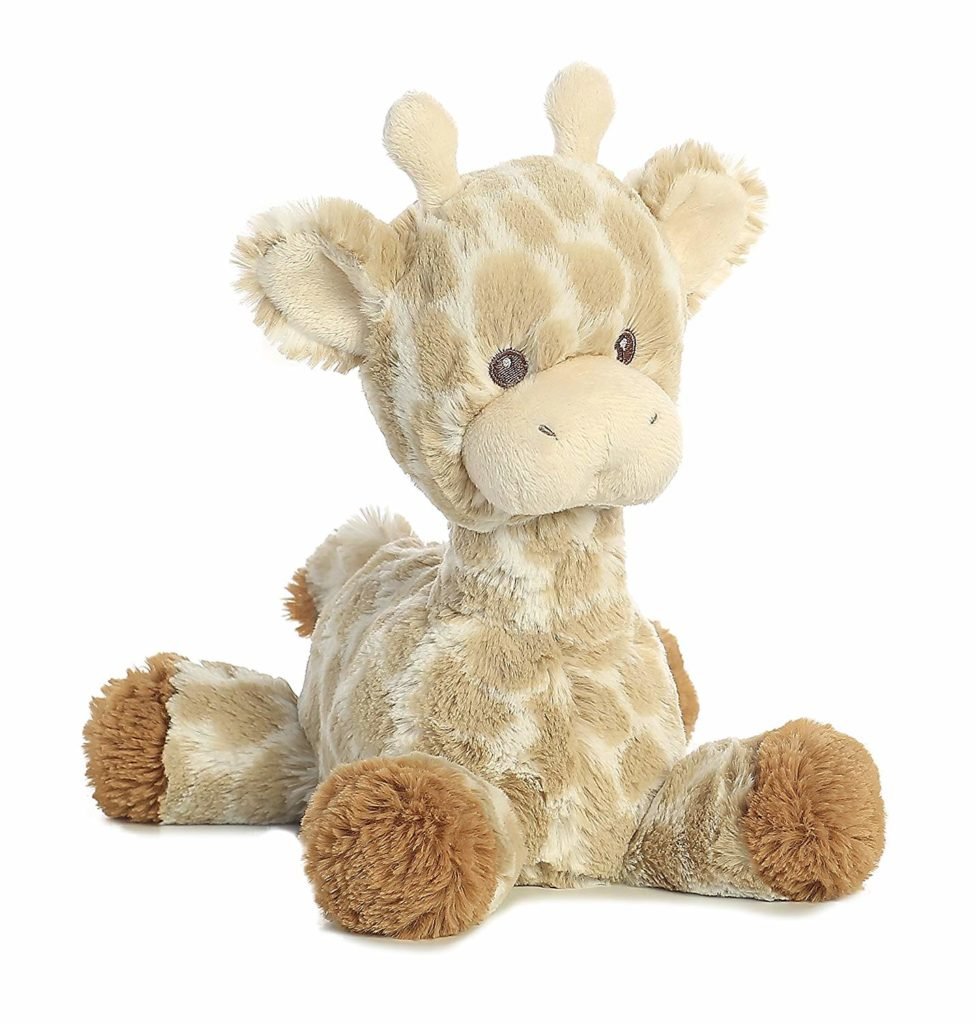 Another great selection from Aurora, this is a fantastic giraffe plushie for a baby!
This is a totally "floppy" animal – it doesn't stand up and is totally soft. There are no hard or rigid parts – the legs and neck are both deliberately soft to make it safer and more comfortable for the youngest children to cuddle with. It does have a rattle inside to help baby learn to recognize it by both sound and sight. The rattle's not so loud to be annoying, making it great for you as well!
This giraffe measures about 11 inches when held upright. The eyes are embroidered for added safety.
It's durable and hols up to machine washing and drying on low temperatures.
Wrapping It Up
The giraffe is incredibly cute and these toys all help bring that cuteness into your home (or that of whomever you gift it to). Whether you choose the towering one from Melissa and Bob or any of the other great options here, anyone can love these fantastic plush toys!