Love, and expressions of love, should never be limited to just one day. Still, February 14th has long been celebrated with expressions of affection. It's a chance to show off your romantic side and share with your partner.
Candy and flowers are often associated with the day, but so are the wonderful animal relationships we know from both fact and fiction. Birds are often associated with the day – especially, of course love birds. But these feathered friends of the genus Agapornis and many other types can also be cute reminders of being with a mate!
Here are some of the cutest "birds in love" we've found – we hope you'll enjoy them as much as we do!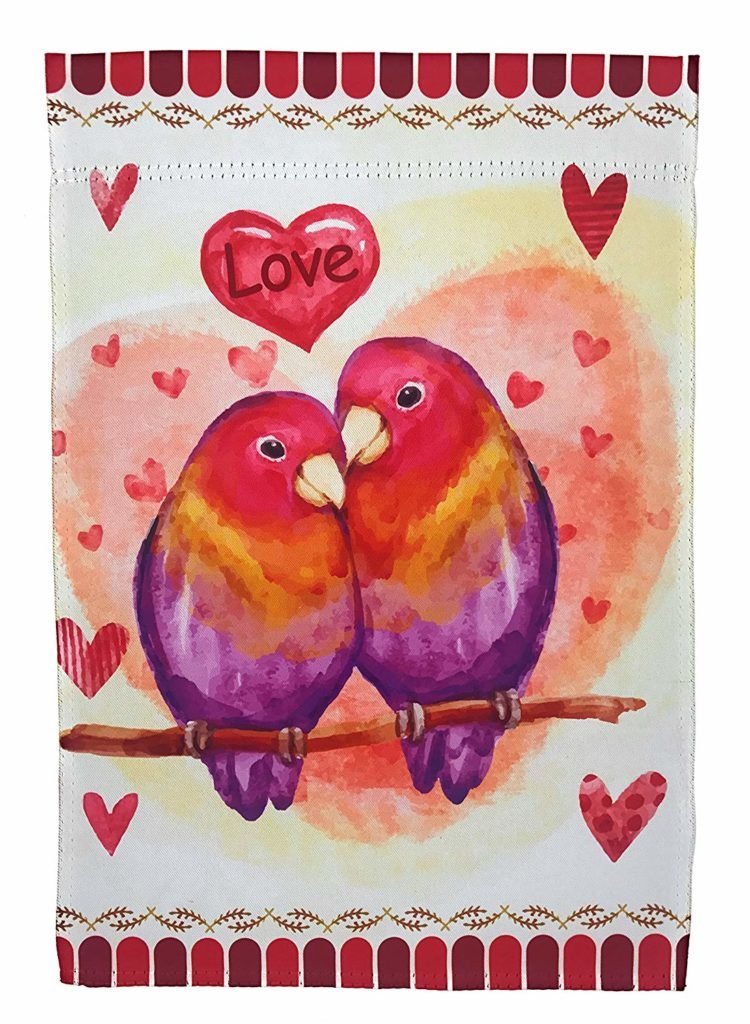 Here's a great way to help your neighbors get in the spirit of Valentine's Day! This fantastic garden flag has bright colors that will stand out and show off the affection of hte two love birds it features.
The flag measures 12″ x 18″ and is truly two-sided. By that we mean the image is printed on both sides so that it can be read correctly as well. Remember that this is a garden flag – it's a size down from a house flag.
The flag is made of polyester and is UV-resistant so it should last for many years without fading. It's also machine washable. It's sewn to provide a sleeve at the top for a standard hanger.
These salt and pepper shakers make a wonderful gift for Valentine's Day or as a wedding party "thank you" gift. The simple bird figures will look great on the table or a kitchen shelf and they come in a gift box.
These are more decorative than useful, since they are small and there is no difference between the two pieces (meaning you can't tell the difference between salt and pepper). The dispenser hole is also rather large. However, that doesn't take away from their great appearance!
They are made of porcelain and measure about 1 1/2″ high.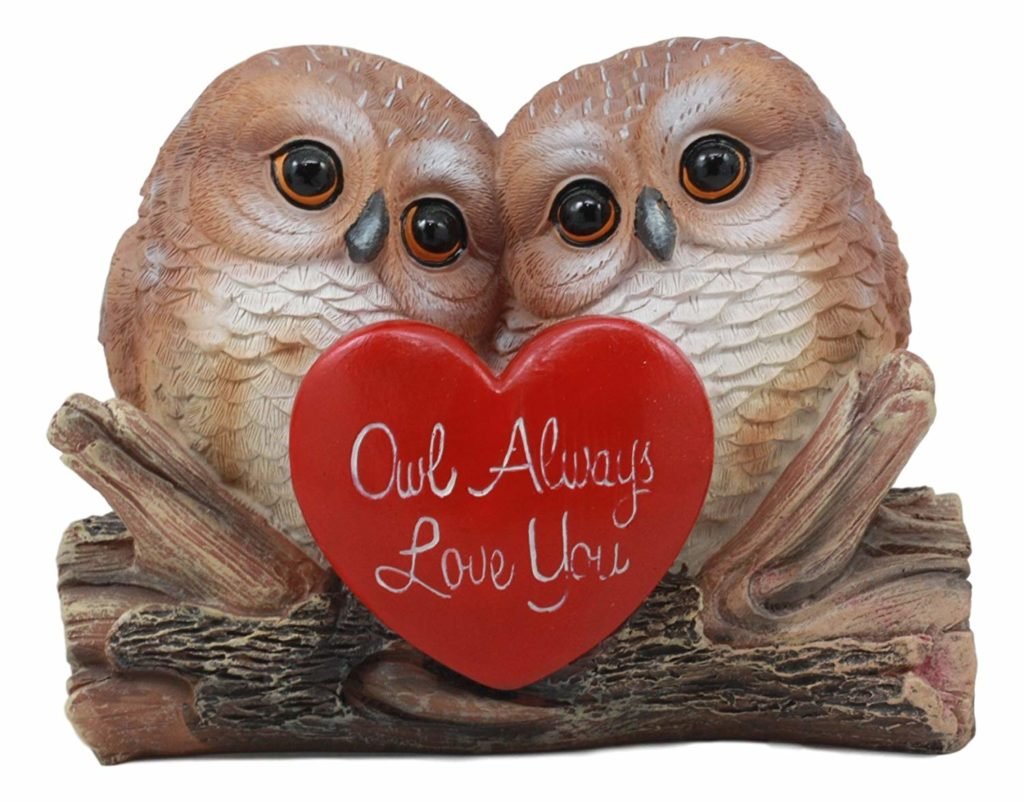 This great figurine is a wonderful reminder of love and a great intro gift or as part of something bigger!
The two owls sitting on a log measure 5 1/4 inches high. The heart in front of them cleverly reads "Owl Always Love You." Really, it's just too cute for words!
The figurine's other measurements place it at about 6 1/4″ wide and 3 1/2″ deep. The piece is partly hand-crafted so the colors may vary slightly. But it's made from a good-quality resin so it holds up well.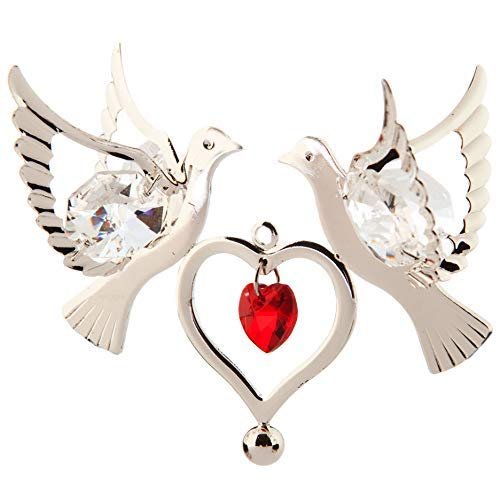 This pendant is a great expression of love and is a fantastic gift to express love and togetherness.
The two birds in flight face each other as they hover above a heart. A red Matashi crystal is in the center of the heart. Transparent crystals sit on the back of each dove, between the wings. The version linked here is silver-plated, although they also offer one in 24K gold.
When we first looked at this piece, we thought it was jewelry. But it's actually rather large for that, measuring 2.75″ high and 2 inches across. It's best as a hanging ornament – perhaps from a mirror, shelf or even on the Christmas tree.
This comes ready to be given as a gift, with a velvet pouch and in a gift box. It's great not just for Valentine's Day but for other occasions like a housewarming or Mother's Day as well.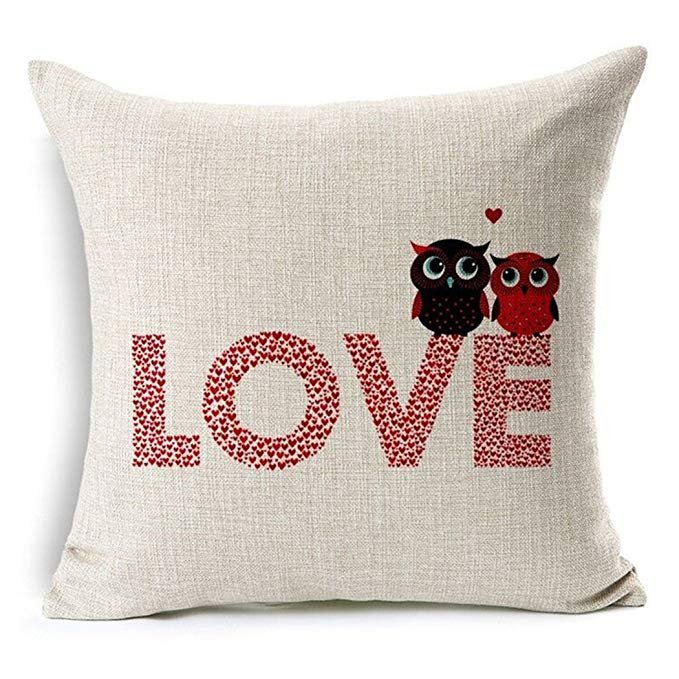 We honestly didn't expect owls to be a recurring theme in this article, but here we are again! There's actually quite a few great pieces featuring owls that celebrate love. And we know there are many owl collectors and fans out there too!
This pillow cover fits a mid-sized throw pillow, measuring 18″ x 18″. The zipper is invisible, making it even better as a show piece.
The two owls share a "thought heart" floating up between then and sit perched on the word "LOVE". Tiny red hearts make up the letters, too.
The pattern is just on one side. Remember it includes only the cover – you have to provide your own pillows.
While you might not want to change pillow covers just for one day, it's still a great reminder of the emotions associated with Valentine Day that continue year 'round!
Wrapping It Up
For anyone in love, Valentine's Day is a fantastic time of year to celebrate what they sharer with their partner. Birds in pairs are also often looked at as cute reminders of love, so we've looked at some of our own favorite bird-themed gifts for February 14th. Hope you enjoy them and that they impress your significant other!