As the year draws to a close, it's always good to look back to see where we've been and where we might be going. That can be said of just about anything, but it's true for our speciality for sure.
Here we look at some of the top animal toys of 2018. It was a year that was mainly traditional – the animals here are mainly old favorites like cats and dogs. But there are some fantastic new takes on them!
Your kids will love them and they remain popular as we move into 2019. So if you weren't able to find them yet or someone just noticed that after Christmas, you can check them out and get them now!
Let's start with the exception to what we said about cats and dogs. And what can be more exotic than a pink monkey!
Bella is from WoWWee and is just one of several brightly-colored monkeys in this great series. She's joined by Boris (blue), and Kiki (glitter purple). There's also Kingsley, the brown sloth. You can check them all out at the link here.
The Fingerlings HUGS collection all have long arms to offer a great hug. They're also interactive and respond with sounds that range from burps to laughs. That might not make them ideal for a fine restaurant, but they'll definitely elicit smiles and laughs in the living room or at bedtime.
These stuffed toys are for children 3 years and up. They weigh just over 1 pound and are about 18 inches tall but with a 29 inch armspan. They use 3 AAA batteries, which are included. (we've seen reports that they only require 2, but we saw one that calls for three as well).
The interactive elements of the toy may not work well with the youngest children since each interaction is based on the child's actions, such as handmovements, clapping or talking. But eventually the child will begin to understand cause and effect, so it can be a good tool for help them appreciate this principle.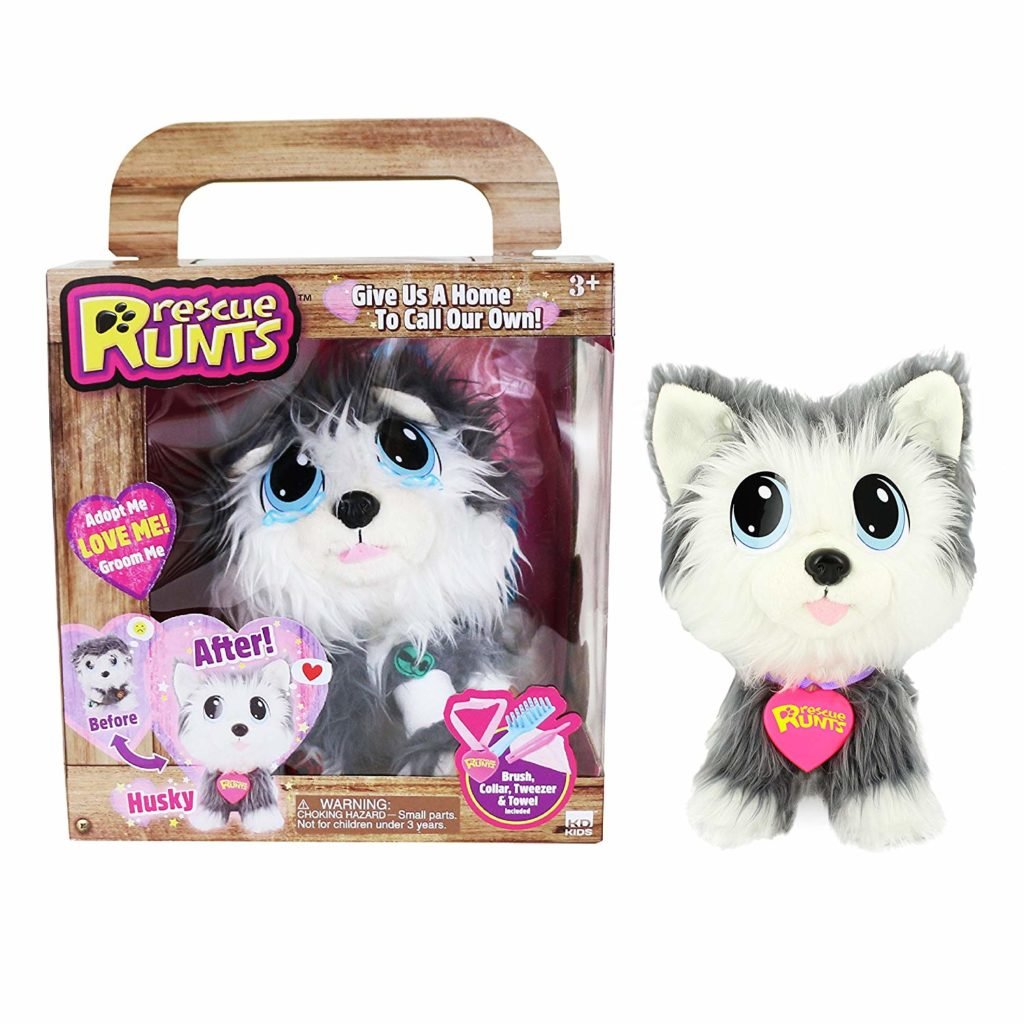 Teaching children to treat pets and all animals right is one key part of raising them. And that can include showing them the important role that rescuing pets plays in taking good care of our furry friends.
KD Kids is just one company that offers great "rescue animal" pets, and their Siberian Husky is among their most popular offerings. Just at the single Amazon listing here, you can also find their German Shepherd, Spaniel and Spotty Rescue Runts. Huskies are among our favorites, though, and we're sure you'll love it too!
With the included grooming tools, your child can groom the pet that arrives as if it were a stray but with some TLC will soon become a great-looking pet. Brush them and wash "mud" off their paws. Even the ears turn up to show a much happier animal because of the care it's been given! There's felt-like "fleas" in its fur and a bandage on it that need to be cared for as well, and some tears that need to be dried.
And the pet can be "reset" or look like it got loose again, so it always needs care. Not everything reattaches well – the tears an be preserved with a lot of care, but the fleas and bandages are really "one-time use only". Still it's a great learning toy about the importance of caring for pets.
Little Live offers another great maker of Rescue Pet toys that you'll love and will help children learn about rescuing animals.
The toy comes with a brush that the child can use to brush out the badly-matted fur (which is intentional) and groom the pet into a pretty, well-cared-for pet.
Both pink and blue colors are available, and the animals include a bunny, dog (pictured), and cat.
This toy is great for children from 2 years and up. It weighs about half a pound.
This soft, cute cat pet can accompany your child anywhere because its tail will wrap around and hold on tight!
This is also a highly-interactive toy. Touch it, and the eyes will light up. Different looks indicate whether it's cold, hungry or more. It'll also purr!
The tail will lock around the wrist or to another small surface. It weighs just 5 ounces, so it won't be burdensome for children of the appropriate age. It's recommended for children 3 and up.
It does require (2) CR123A batteries, which is a specialized round battery that is common in cameras. You can probably find them in the electronics department of your local big box store, or here to order them online.
You and your child with both love these collectible animal bracelets! With a variety of animals available (puppies and kitties pictured here), your little one will be well on their way to a great accessories collection.
Two Twisty Petz joined together form a bracelet, and you can add more to make them a necklace or other piece of jewelry. The appearance of precious gems makes them great individually as their own small animals.
Each package includes two pairs of two different animals (4 in total). Kitties, puppies, pandas, and unicorns are all available. With color variations, there are a total of 24 different pieces to collect.
Each pack also includes a case that will hold 4 pets.
It's recommended for children ages 6-8, although they might still enjoy it up to age 10 or so.
Wrapping It Up
Whether you're trying to get the toys you couldn't find in stores last year, or looking for something new and interesting for a birthday or other special event into the new year, your child who loves animals will surely love one or more of these great items! With so many varieties available, there's something for everyone.